3. Juli 2020, 21:00, Lendhafen
Helena Eribenne, H13 Preisträgerin für Performance, verliehen vom Kunstraum Niederösterreich, wird ihre neueste Arbeit erstmalig im Lendhafen präsentieren. "Killing Time" ist eine partizipative Reise in das Reich der Zeitlosigkeit. An der Schnittstelle von Monstrositätenschau und Varieté spielt die Performance mit den Vorstellungen von Hoffnung, Glück, Zufall und Möglichkeiten. Eribenne nimmt in diesem Ein-Frauen-Stück die Rolle der Magierin, der Priesterin, der Wahrsagerin, der Scharlatanin und der Schlangenöl-Verkäuferin an und nutzt die größten Sehnsüchte der Seele aus, deren Erfüllung immer nur ganz knapp außerhalb der Reichweite erscheinen.
"Killing Time" entstand in Kollaboration mit dem Künstler und Ingenieur Kristoffer Stefan, der die aktuell im Lendhafen sichtbare Skulptur "Bündelung" errichtet hat. Eribenne wird in ihrer Performance mit dem Objekt "Bündelung" interagieren.
Über Helena Eribenne
Geboren in London, England. Lebt und arbeitet in Wien. Studierten an der Akademie der Bildenden Künste Wien von 2000 bis 2004. Über die letzten 20 Jahre Einzel- und Gruppenausstellungen u.a. in Österreich, der Schweiz, Frankreich und den USA.
Bei Schlechtwetter findet die Performance in der Johanneskirche am Lendhafen statt.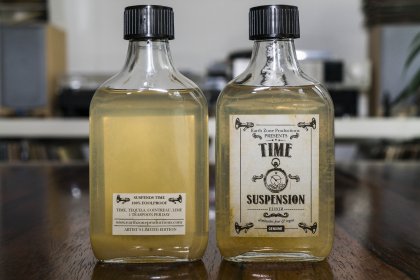 Information in English
The 2019 H13 Prize for Performance recipient awarded by Kunstraum Niederösterreich, Helena Eribenne shall perform her newest work for the first time at Lendhafen. "Killing Time" is an audience participative journey into the realm of timelessness. It takes on the format of the sideshow or the freakshow and plays with the ideas of hope, luck, chance and possibilities. This one woman show sets itself in the position of the magician, the priest, the fortune-teller, the charlatan, the snake oil merchant who exploits your soul's greatest yearning that always seems to be just out of reach.
"Killing Time" is in collaboration with artist/engineer Kristoffer Stefan who has built a sculpture for the Lendhafen called "Bündelung". Helena Eribenne interacts with it in her performance.
About Helena Eribenne
Born in London, England. Lives and works in Vienna. Studied at the Academy of Fine Arts Vienna from 2000 to 2004. Solo and group exhibitions as well as performances over the last 20 years for example in Austria, Switzerland, France and the USA.
In case of rain the performance is going to take place at the Johanneskirche at the Lendhafen.